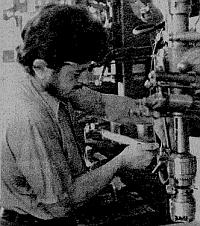 October 23, 1977: Machine shop foreman Ed Chase sets up a drill press. [The Sunday Republican, Waterbury, CT]
Did you know McGuire was a real person? McGuire Manufacturing was founded in 1952 by Hugh McGuire who started out purchasing plumbing components from suppliers across Connecticut and then assembling and selling them from his Cheshire garage.
In 1958, Mr. McGuire saw a future in cast brass high quality plumbing fixtures. He hired a machinist, developed his own casting molds and began manufacturing plumbing parts from a 5,000 square foot building located in Prospect, Connecticut.
The manufacturing company continued to grow employing 11 factory workers in the 1970's and attracting customers from across the globe. Hundreds of different products were being developed and shipped to an even larger variety of projects including hospitals, submarines and war ships.
In 1972, the company was purchased by Bridgeport based manufacturer, Bead Industries, and continues as a wholly owned subsidiary.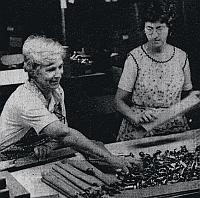 October 23, 1977: Lois Barber, right, and Ann Tomasiewicz pick parts. [The Sunday Republican, Waterbury, CT]

Many of McGuire's employees today have been with the Cheshire located company for over 20 years. The knowledge and expertise they bring to the manufacturing of thousands of Genuine McGuire Products™ and ultimately to the customer, prove why McGuire Manufacturing continues to be the professional's number one choice for commercial plumbing fixture trim